72 Roller Coaster Puns For A Loopy Laugh Ride!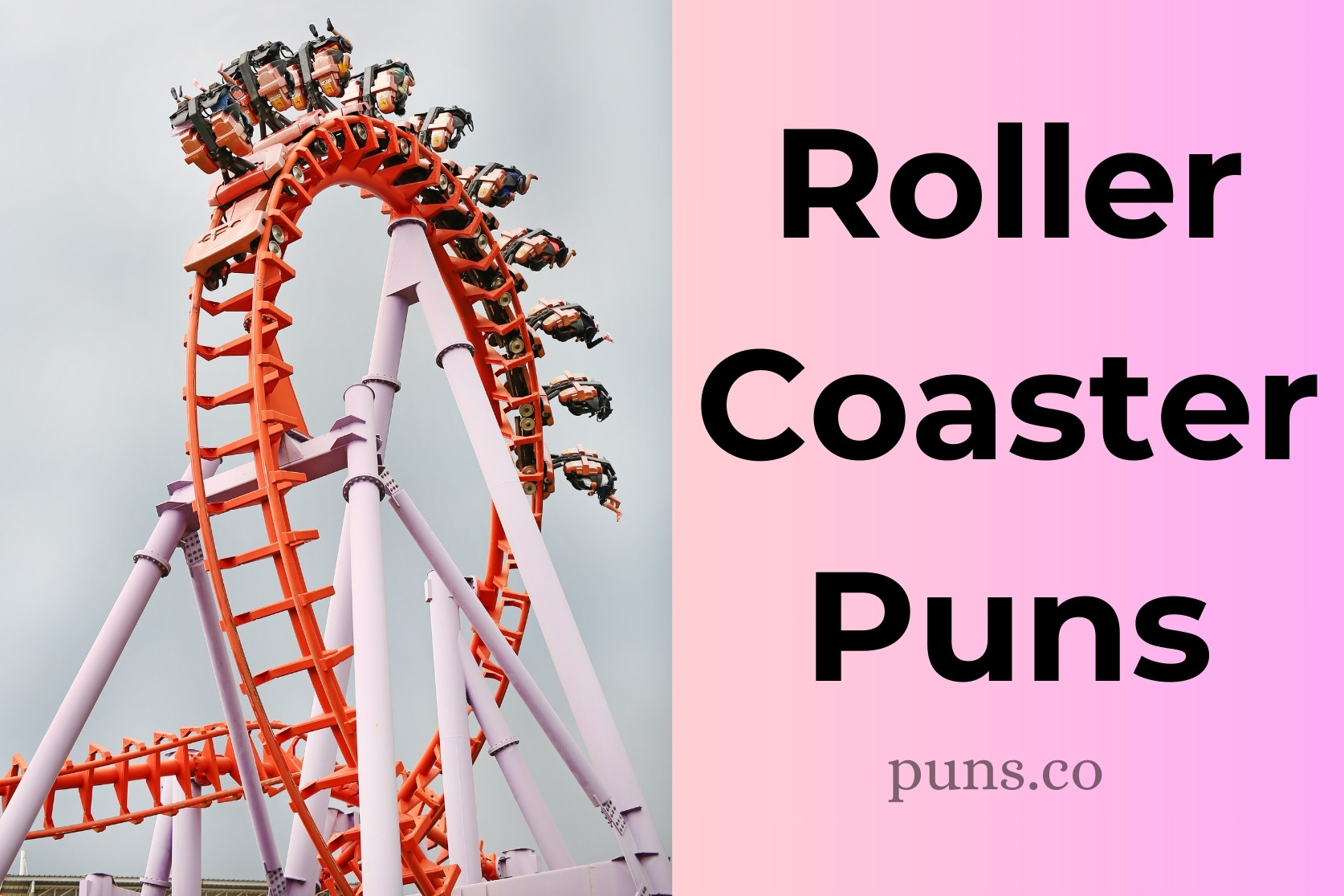 Oh, thrill-seekers of the digital age, isn't life a lot like a roller coaster? One moment you're climbing those peaks of Instagram popularity, and the next, you're plummeting into the depths of a Twitter faux pas.

Now, imagine merging that wild ride with the giggly, delightful world of puns. That's right, we're taking you on a loop-de-loop of laughter!

You're about to dive into the ultimate collection of roller coaster puns.
Here comes the twist… and the puns! 🎉
Roller Coaster Puns
The weather roller coastered all weekend.
She's a roller coaster of energy in the mornings!
I love the roller coaster. It's fly-tastic!
I had a wheel-y good time on that roller coaster ride!
His roller coaster career has more ups than downs lately.
After a roller coaster workout, I feel on top of the world!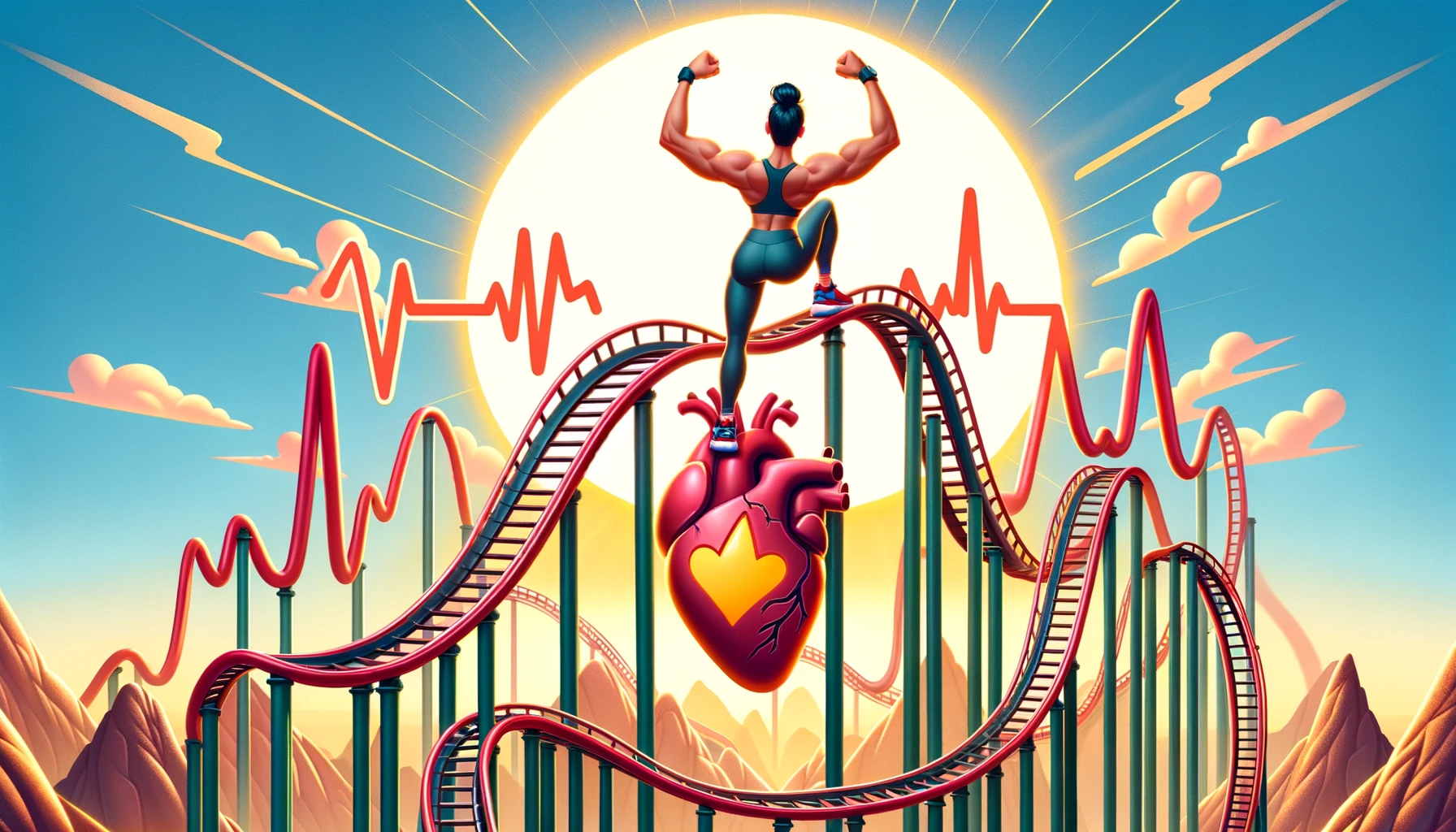 The roller coaster of my thoughts always takes me on a wild ride.
This roller coaster of a song has so many unexpected beats!
The roller coaster of pregnancy was both exhausting and joyous.
Your humor is a roller coaster; I never see the jokes coming!
Your roller coaster baking skills have peaks and troughs.
The roller coaster's favorite kitchen device was the roaster. He loved thrill grills!
After a roller coaster day, a peaceful dusk at the beach seems heavenly.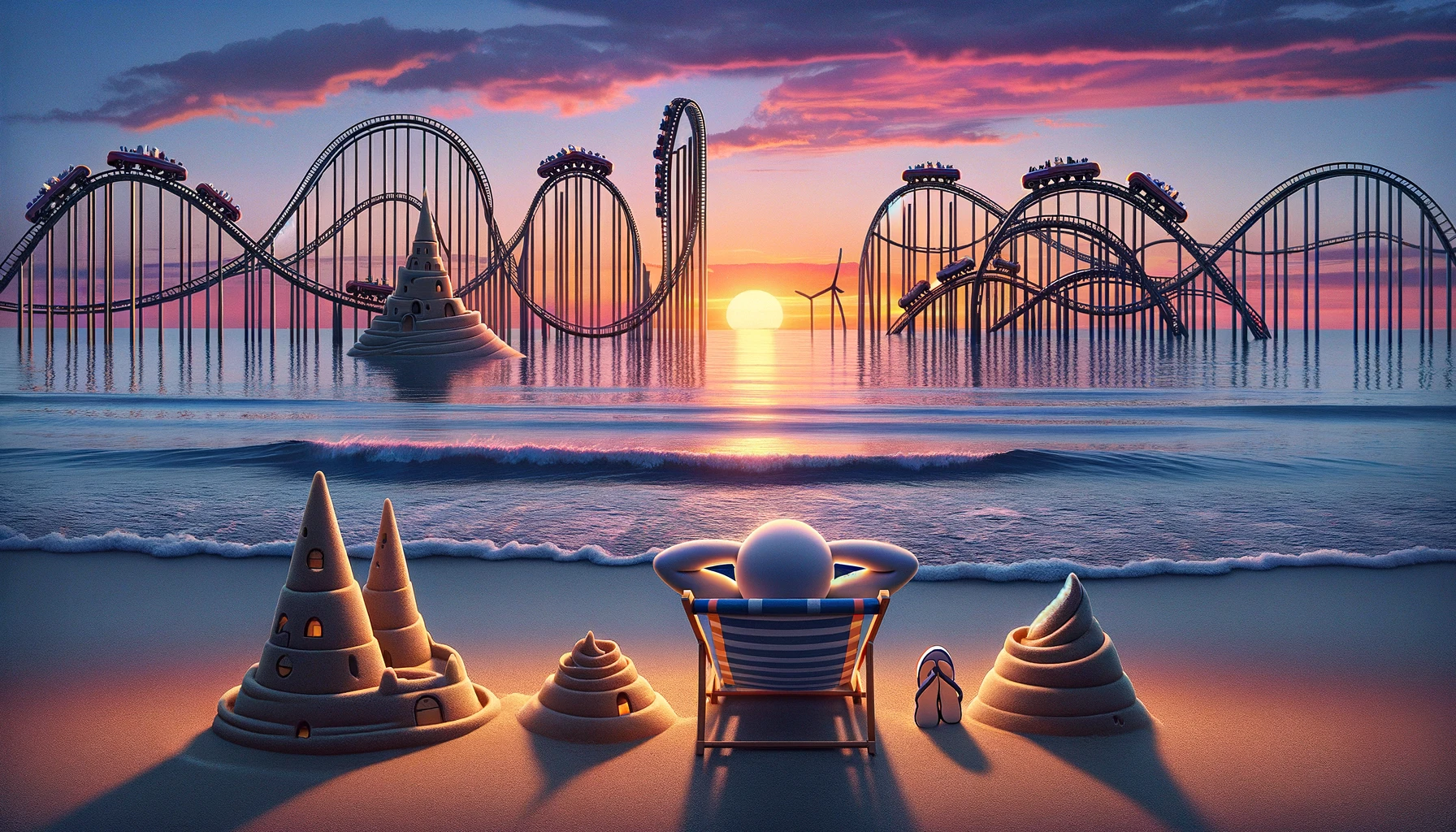 Your roller coaster of a personality keeps everyone guessing!

The moon has roller coasters too, but they're just a little spacey!
Your roller coaster style is fashionably unpredictable, like wearing sandals in winter.
Going on that roller coaster, I braced for impact, but it was just a breeze!
His mood roller coasters every hour.
Life is a roller coaster. Might as well scream and enjoy the ride!
I'm roller coaster about this new job opportunity.
This coaster has its ups and downs, but it's still a thrilling ride!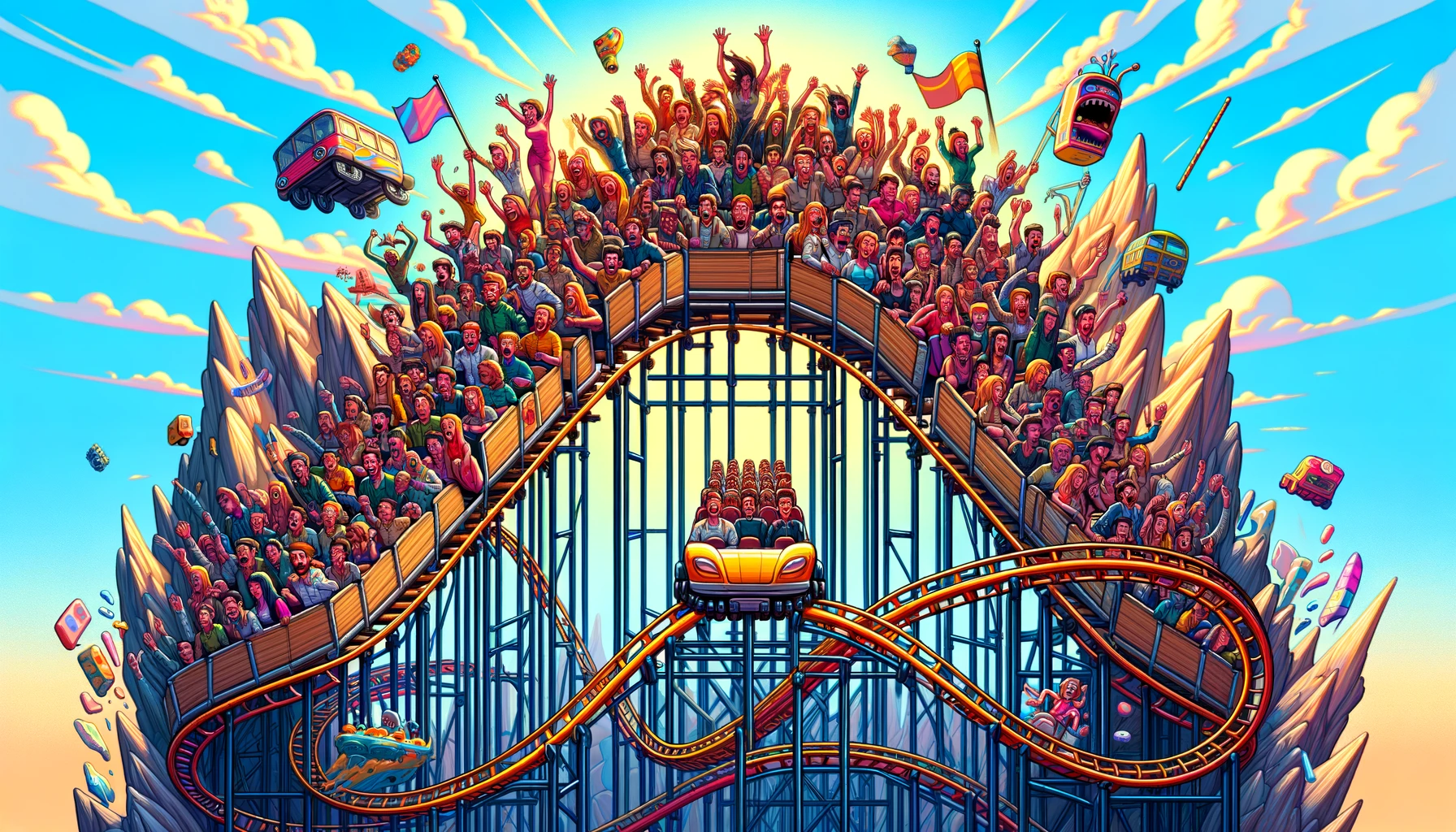 She's roller coasting through life without a care in the world.
Coasters are like the stock market; they have their highs and lows.
Twists, turns, and screams – just a typical day on the roller coaster of life!
Coaster rides are the ultimate stress reliever; you forget everything else when the thrill hits you.
She's on a roller coaster to success; hope she remembers to enjoy the view!
This roller coaster recipe took my taste buds on a wild ride!
After a roller coaster weekend, I need to find some flat ground!
Hold on tight, this coaster's about to take us for a loop!
His roller coaster of a presentation left everyone dizzy!
The roller coaster in the flower garden? They call it the "Petal Plunge".
The desert roller coaster is popular with camels; they call it the "Dune Dive".
In the Arctic amusement park, polar bears rave about the "Icy Incline".
Pigs love the roller coaster in the mud field; they amusingly call it the "Slop Slope".
The high-flying roller coaster is also a sky toaster!
There's a roller coaster who is also an author. He wrote a book called 'The high rise of a roller toster'!
In the winter wonderland, Santa's elves call their ride the "Snow Coaster".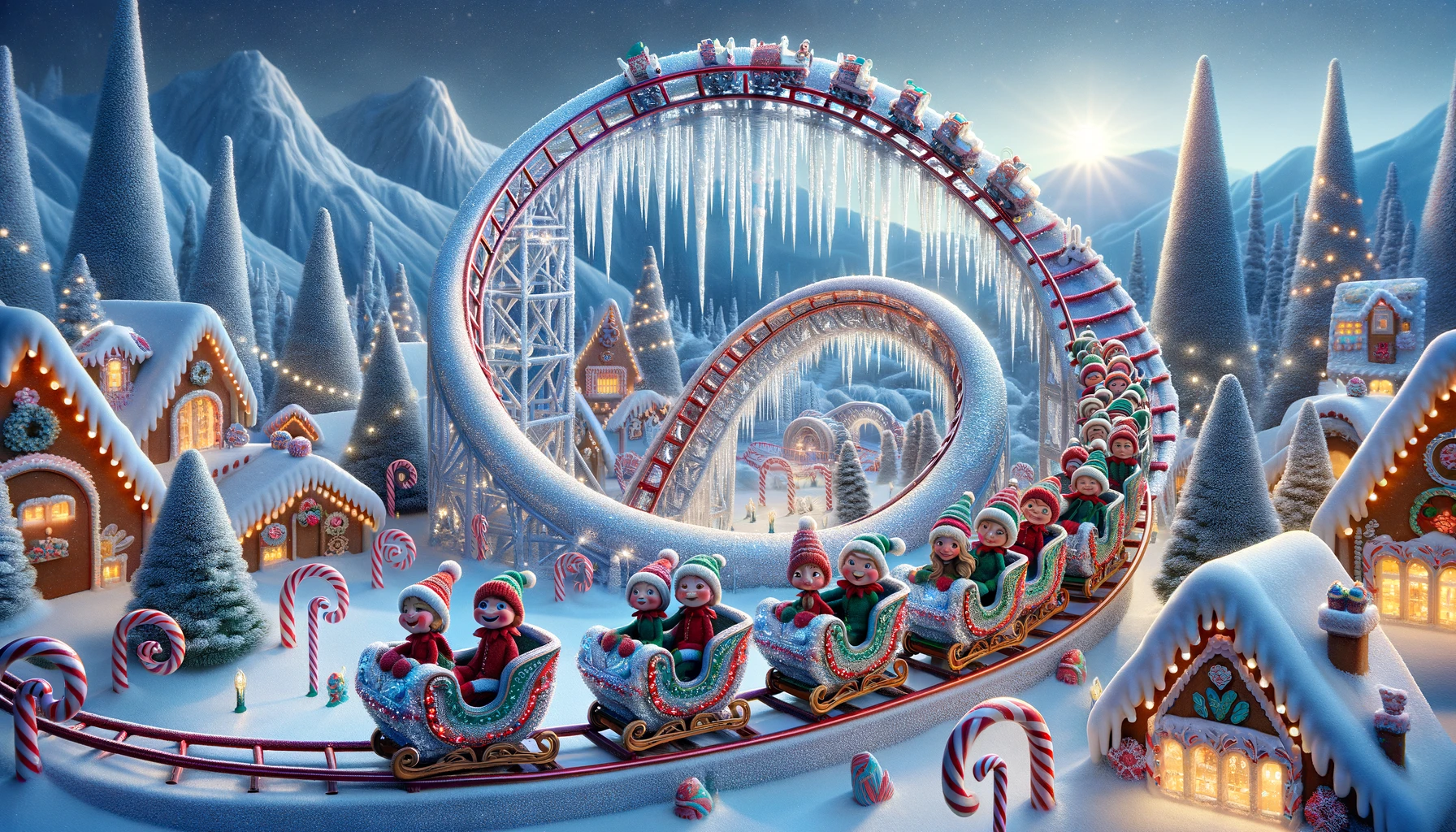 A roller coaster is like a relationship—sometimes it gives you butterflies, and other times it makes you sick!

Hold on tight, because this roller coaster is about to take you on a wild ride!
Coasters are like libraries; they'll take you on an adventure without leaving your seat.
Dragons must find roller coasters fire-tastic, with all that flying high and diving low!
I was on the edge of my seat during the entire coaster ride – quite the rail thrill!
Went to a haunted amusement park, the roller coaster was a phantom plunge.
The roller coaster, who is now a musician, has a knack for hitting high notes with a joster!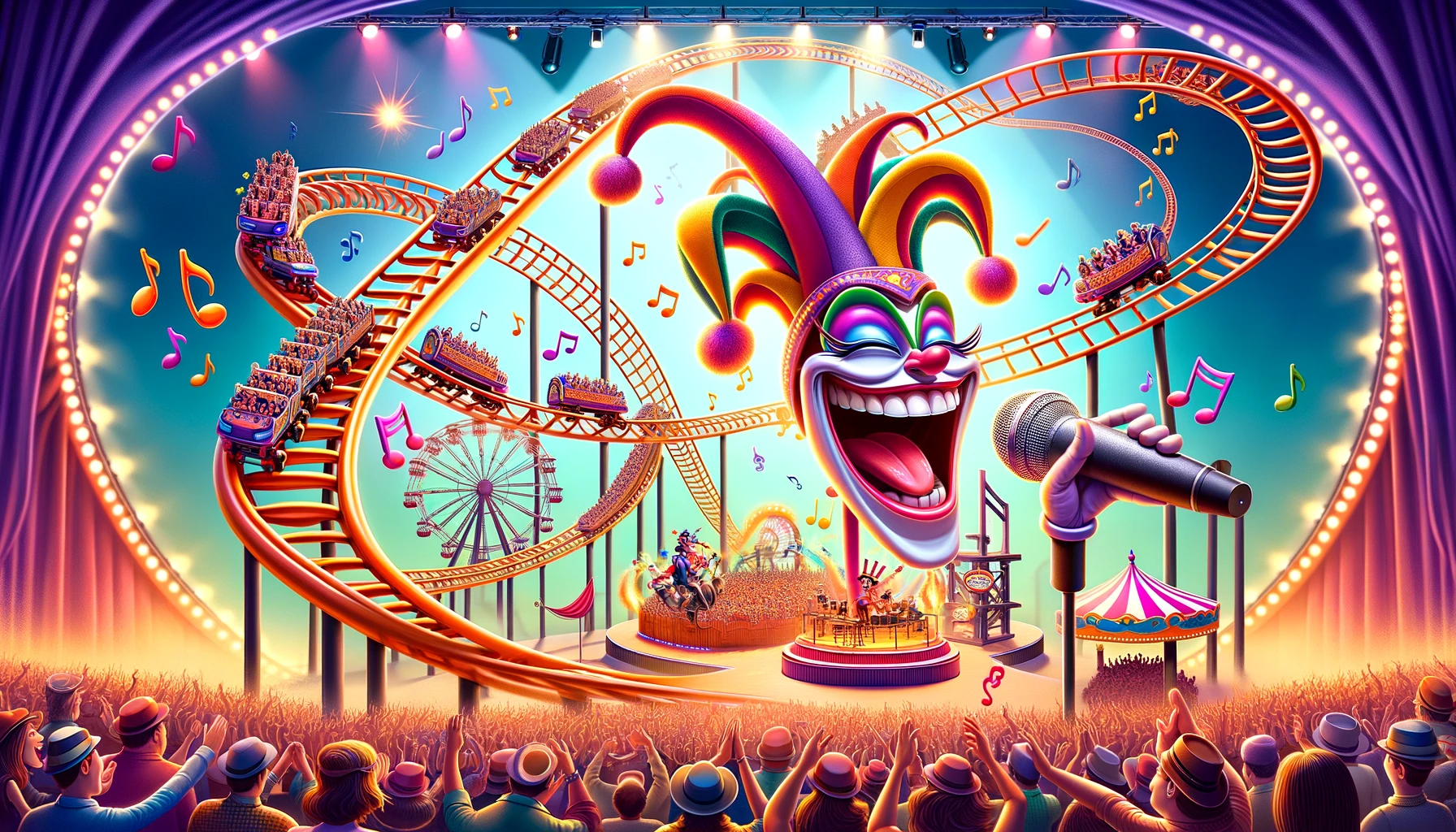 Wizards find roller coasters wand-erful, especially with those magical loops!
In the jungle, the lion loved the roller roarer!
Mermaids avoid roller coasters because they're afraid of the deep drops.

Roller coasters speak louder than words.

She's a real screaming eagle, always eager to plunge into thrilling adventures.

The time-traveler's favorite ride? The roller coaster to the past.

Your relationship has more loops than the biggest roller coaster!
Her roller coaster workout routine means you never do the same thing twice!
In the underwater amusement park, the roller coaster is a real wave of excitement.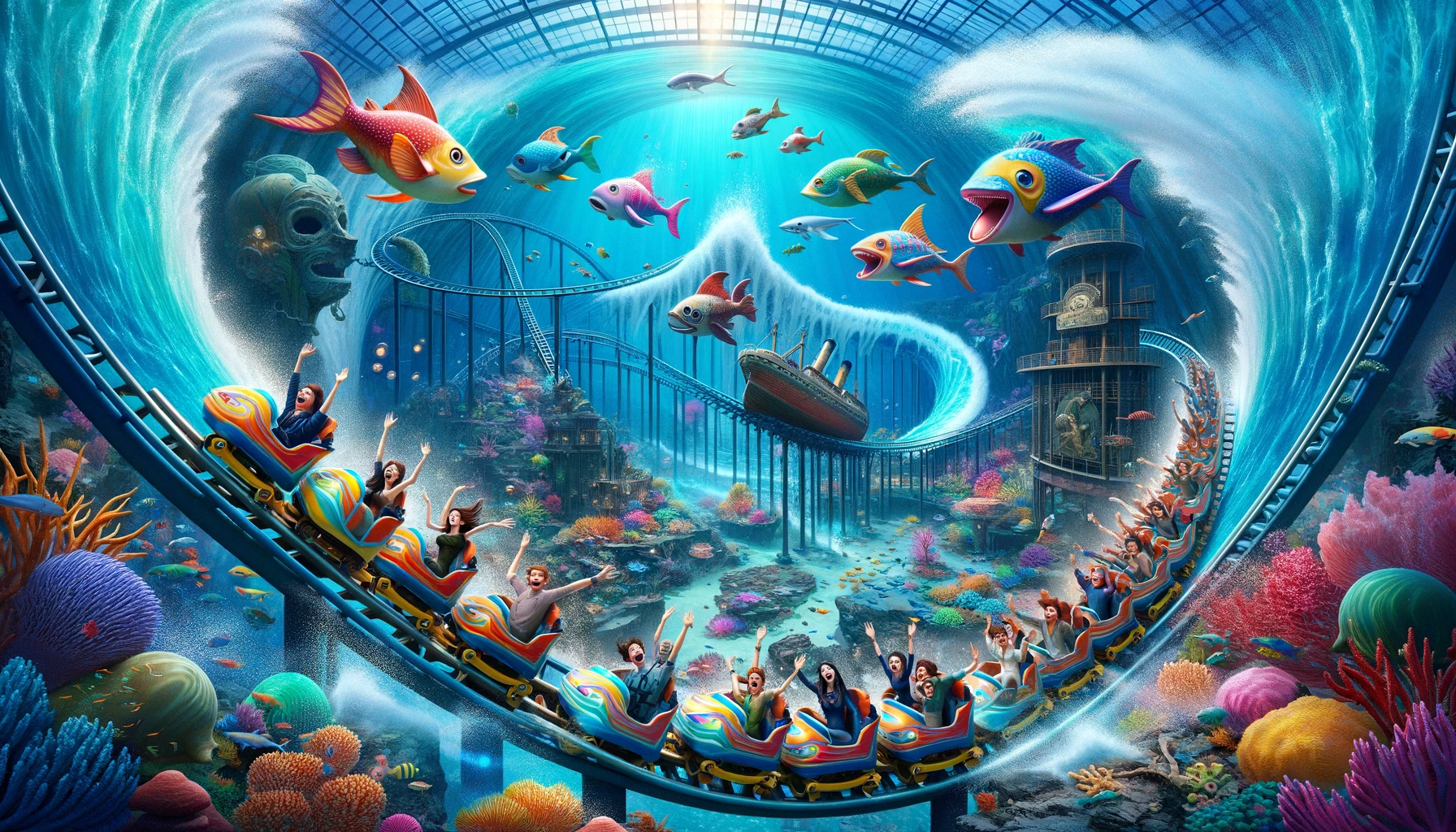 The roller coaster diet is all about the highs and pies!
Trying to understand physics is like a roller coaster; it has its ups and downs.
That roller coaster coffee has me looping!
Coasters are like relationships, they're full of ups and downs.
Coasters are such thrill seekers. They go up just to come down fast!
Dating is like a roller coaster, it's exhilarating, scary and can turn your stomach all at the same time.
My fitness journey feels like a roller coaster ride, some days I'm climbing, some days I'm just free falling.
The roller coaster in space is truly out of this world!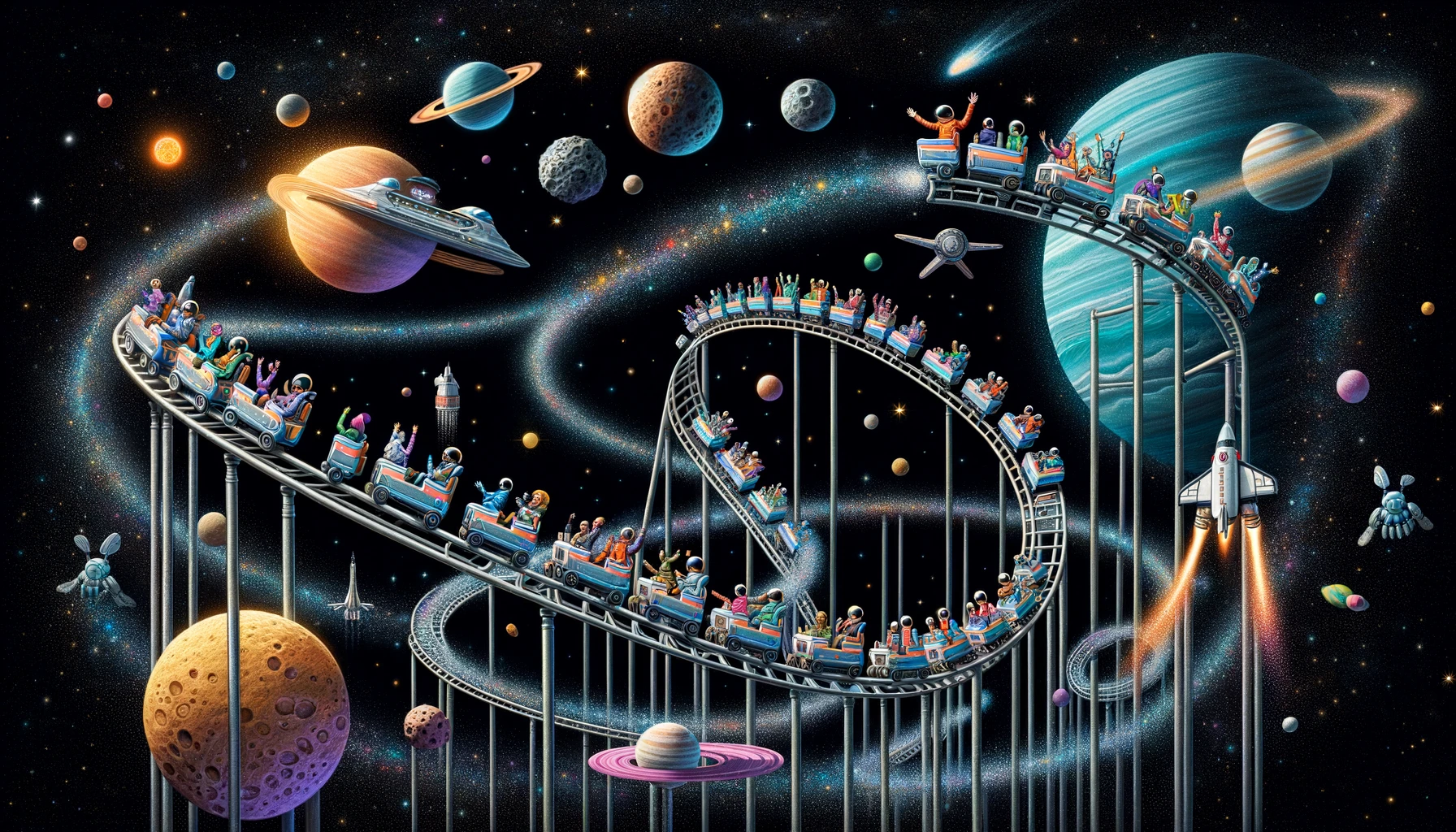 My relationship with food is such a roller coaster. One day it's salads and smoothies, the next it's burgers and fries!
The stock market is a real roller coaster; it can take you from rags to riches and back again before you know it!
My mood swings are like a roller coaster ride, from cloud nine to rock bottom in seconds.
Ever since I started this roller coaster job, every day's been an unexpected drop.
This roller coaster weather has me constantly changing outfits!
My exercise routine is a roller coaster, with energetic workouts on some days and absolute lethargy on others.
My daily commute is a roller coaster ride, from calm suburban roads to bustling city streets.
Did you hear about the roller coaster who was also a boaster? He always bragged about his loops.
The dragon's favorite part of the roller coaster? The fire loops!
Roller coaster rides in the rainforest? They call it the "Jungle Jolt".
I'm on an emotional roller coaster – literally!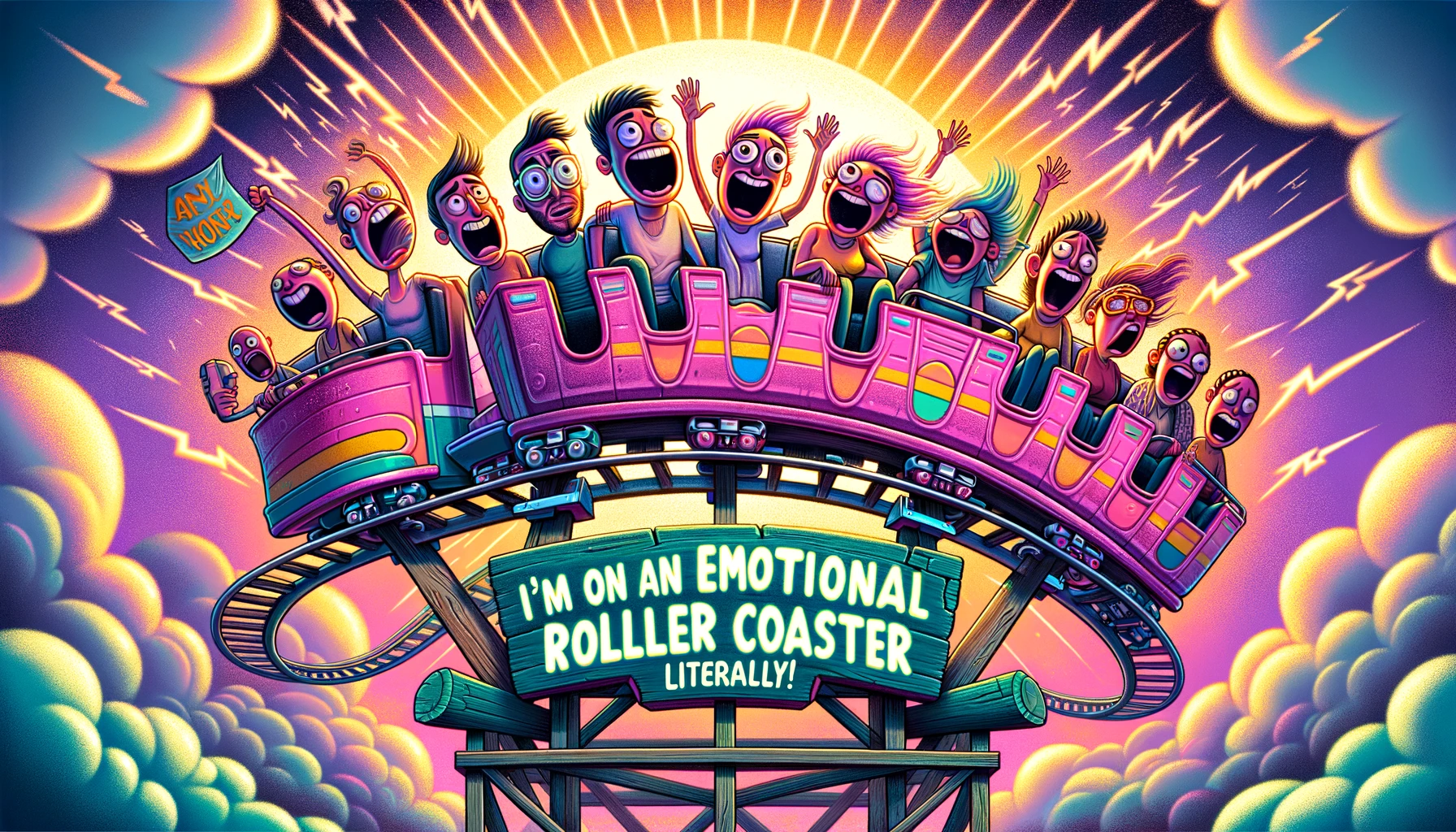 Let's face it: life's a roller coaster, and we're all just trying to enjoy the ride.
The puns we've shared? They're more than just playful wordplay; they're a chance for you to flip the script on how you perceive the ups and downs, twists and turns.
So the next time you're feeling those jitters, whether from life or a loop-de-loop, just lean in, hold on tight, and enjoy the ride.
After all, it's all in the pun-tastic journey, right? 🎢✨