108 Olive Puns To Brighten Your Day!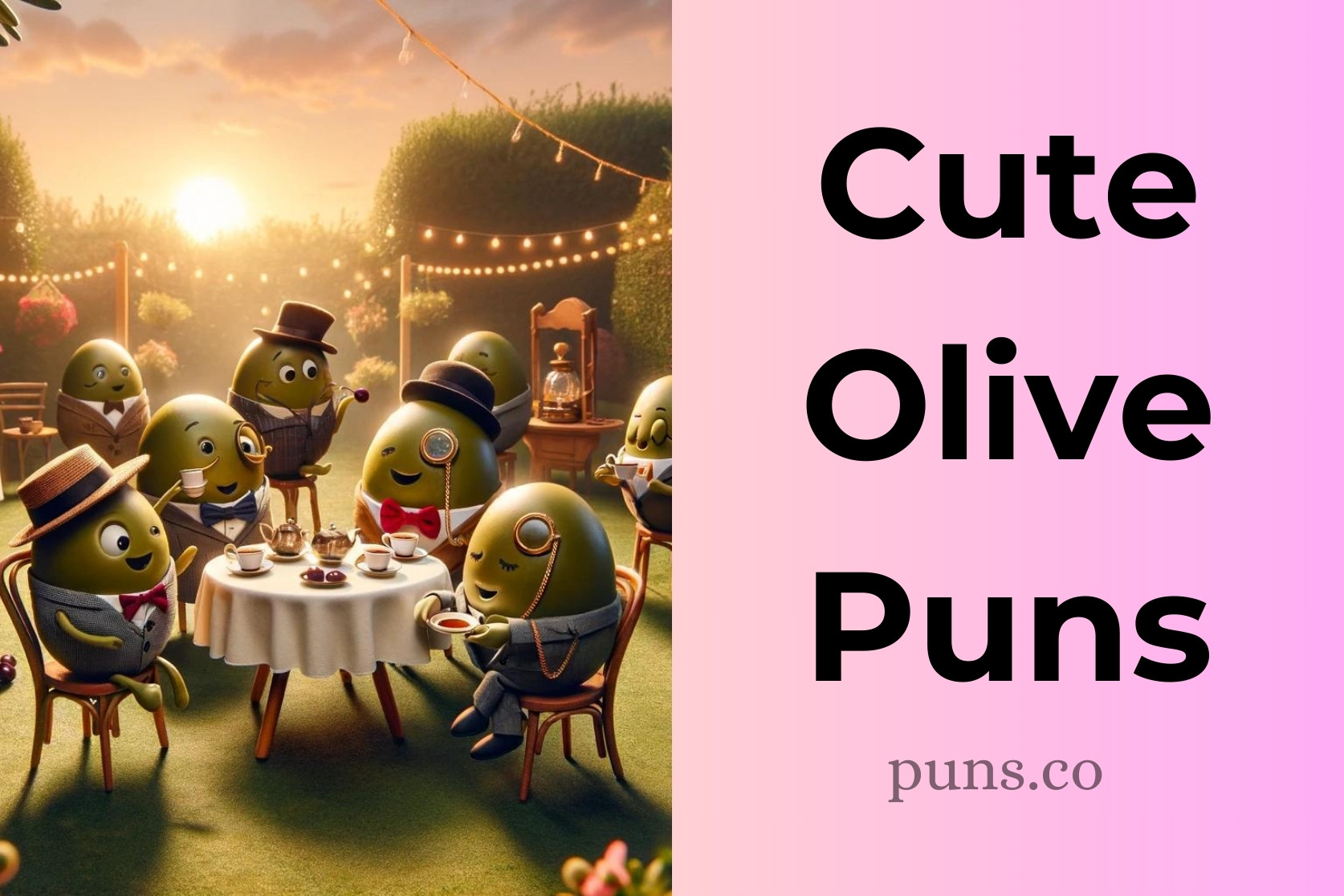 Hey there, pun-slinger extraordinaire! Are you ready to embark on a flavorful journey through the world of olive puns?
If you've ever found yourself in a pickle trying to come up with clever wordplay involving these little green gems, you're in for a treat. We've got a brine-tastic collection of olive puns that'll have you laughing, groaning, and nodding in appreciation.
So, grab your martini (with an olive, of course) and let's dive into the salty, pun-filled sea of olives!
Olive Puns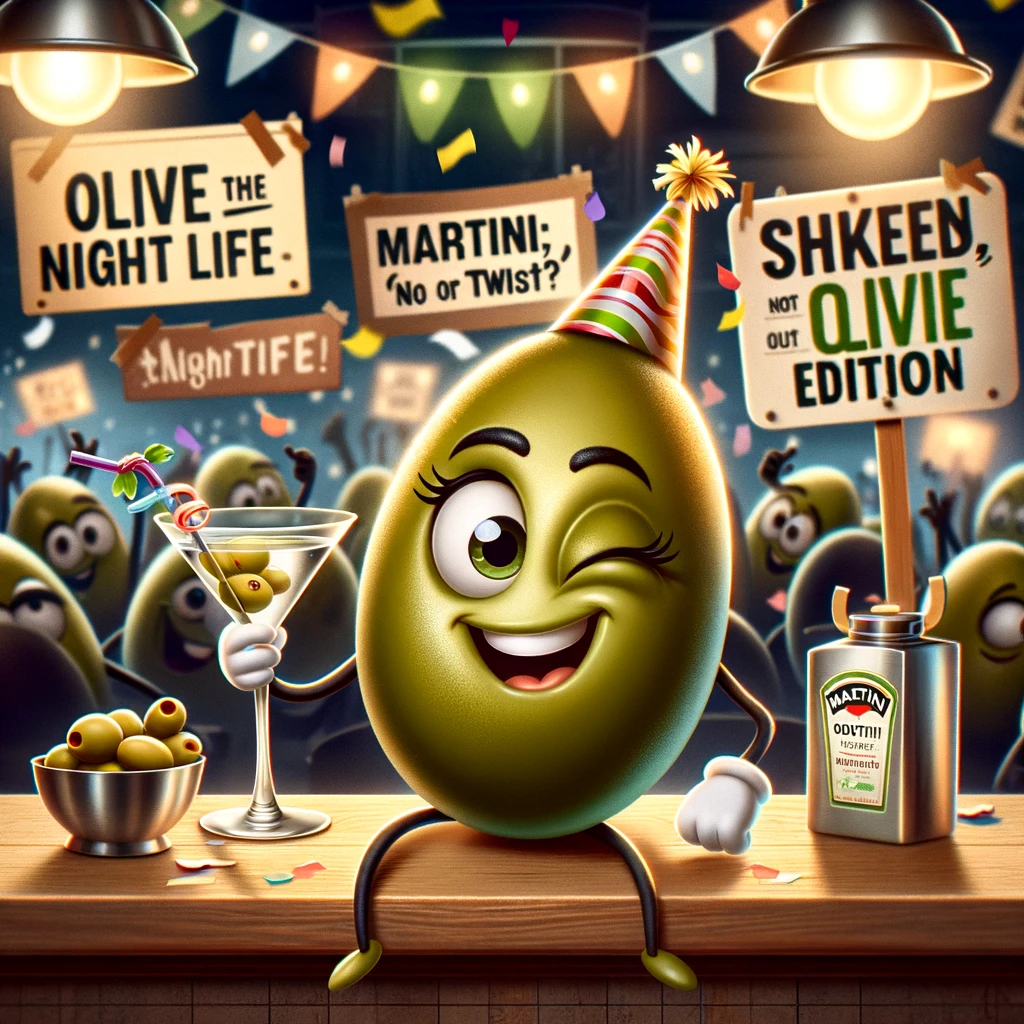 Olive it up on the weekend.
Olive for the moment.
Olive you more than a good book on a rainy day!
Olive you need is love.
Olive you to the core of my cheesy heart!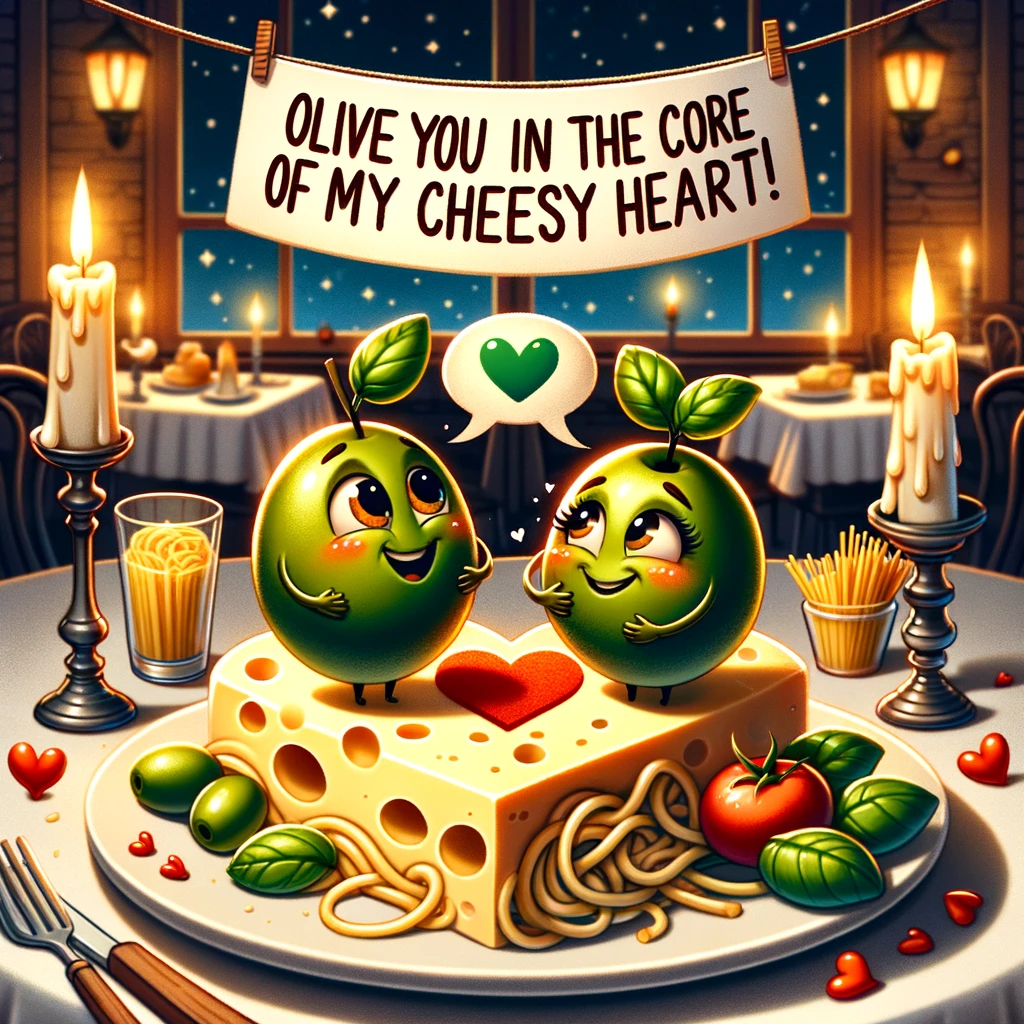 Olive in the fast lane.
Olive to wine and dine.
I'm oliver the moon to see you!
I'm gonna kiss you olive-r.
O-live – Opposite of O-dead.
You're the olive to my martini.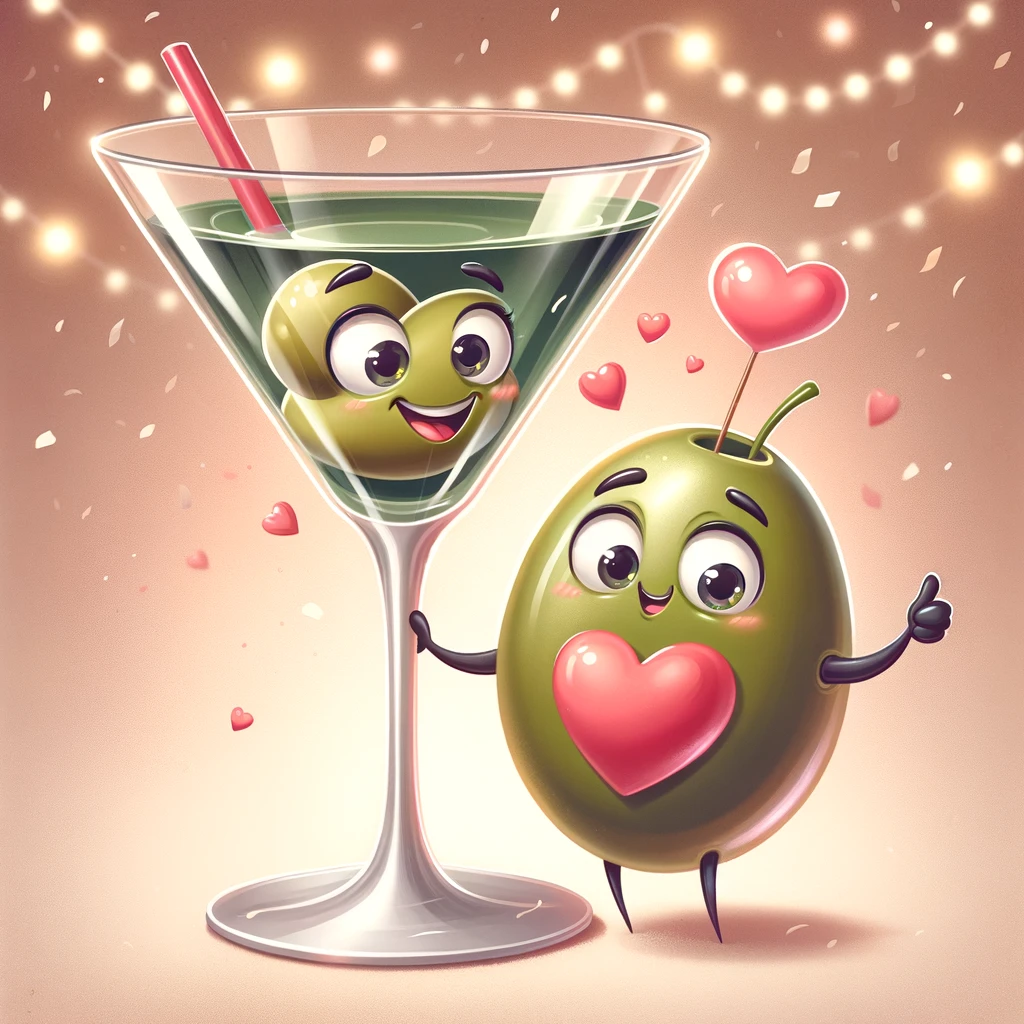 We started our meal and olives well that ends well.
I'm not arguing, I'm just explaining why I'm olives right.
In the big picture, the little olives matter.
Feeling olive-rwhelmed with this view!
Olive the mysteries: Unpitting the truth, one clue at a time!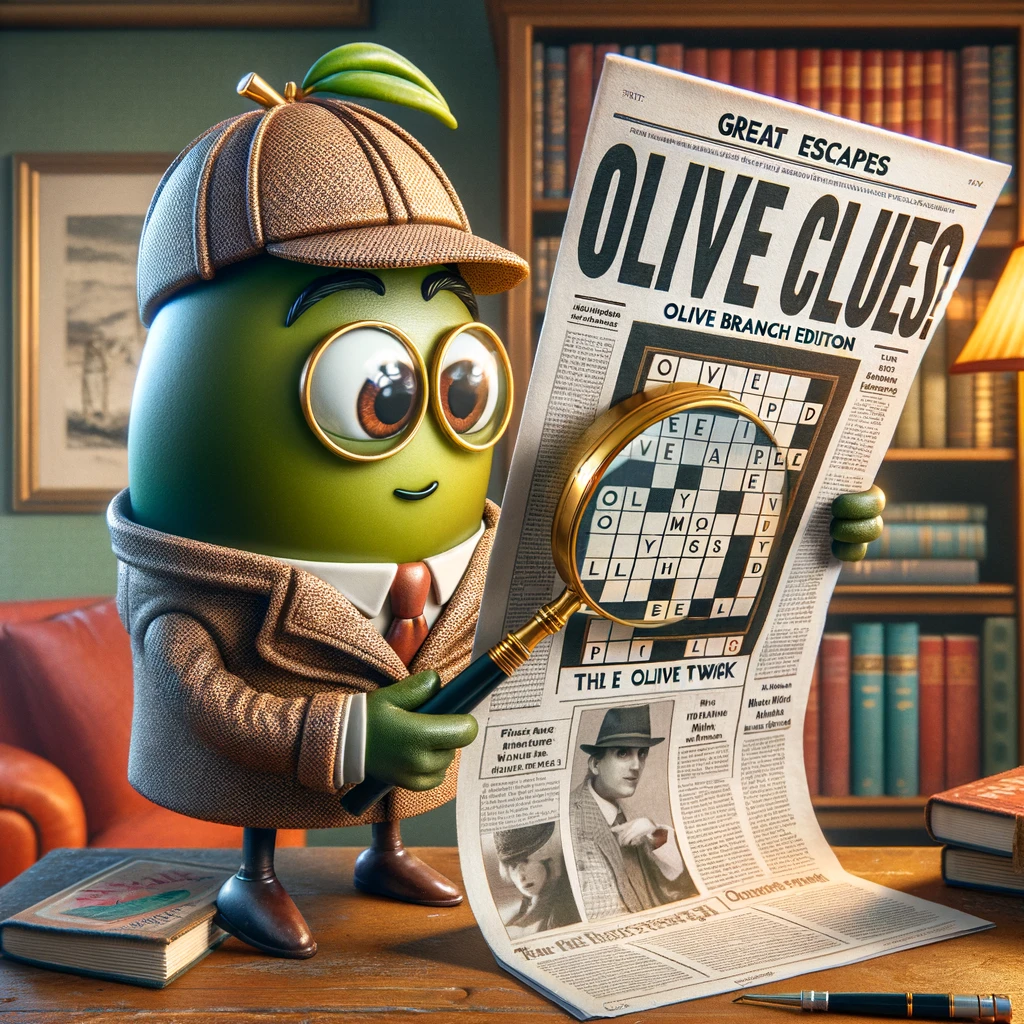 Olive and let olive.
Olive you more than a pizza loves cheese!
Olive all your curves and all your edges, all your perfect imperfections!
Feeling rather pitt-y today, must need more olives.
Olive you to the moon and olive the way back!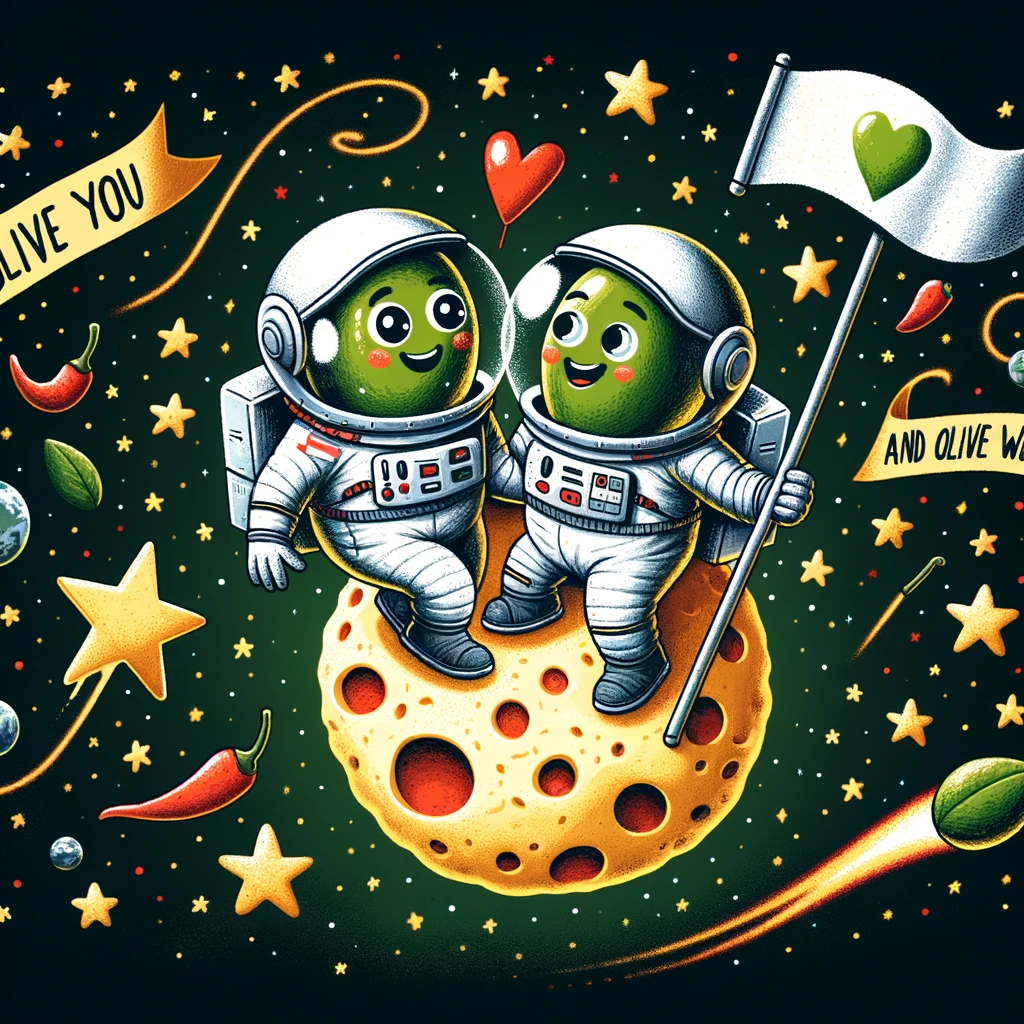 Olive for the moment, and the moments will olive you back.
Life is better when you olive it up on the weekend!
I'm in a relationship with olives – it's a real olive affair!
A meal without olives is a meal wasted.
Olive you so much.
Olive oil and salt, two peas in a pod.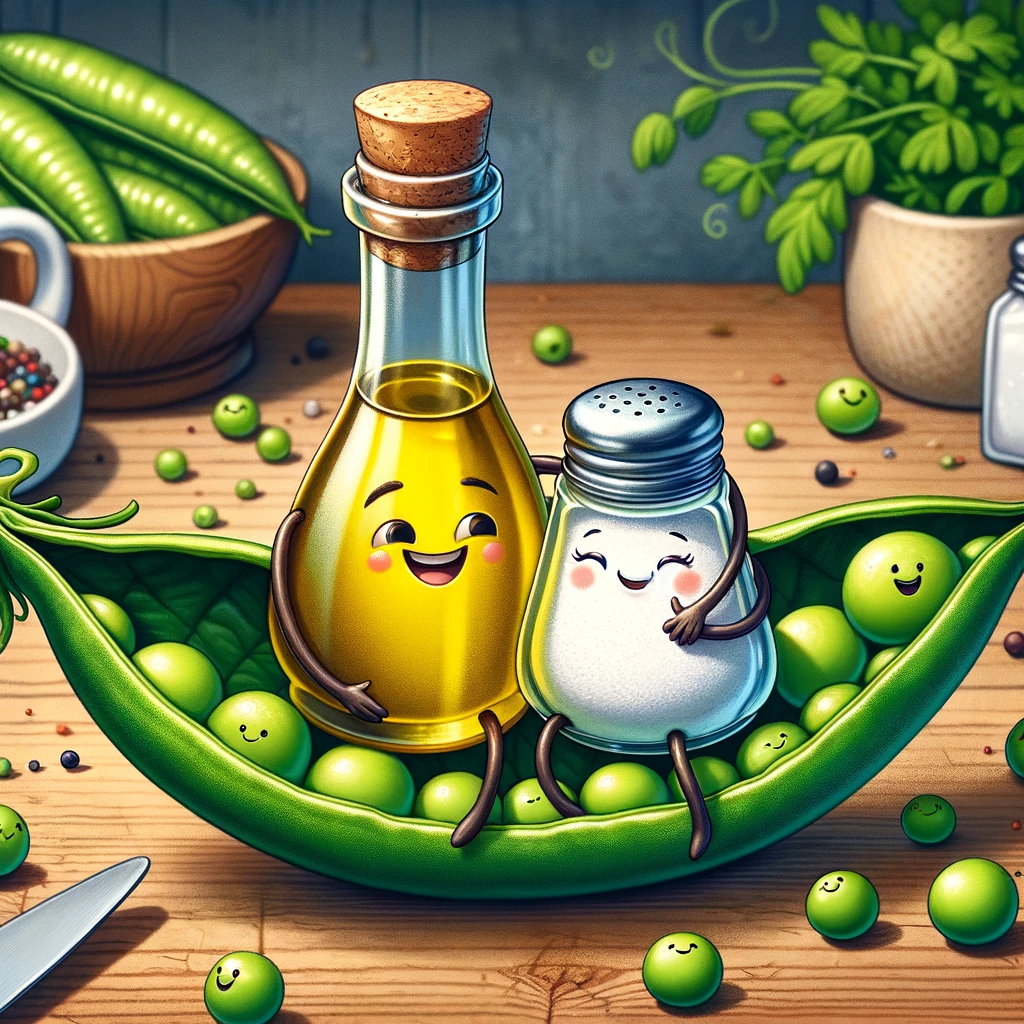 Don't b-olive everything you hear.
Just like love, olive oil will never let you down.
Olive my worries are gone!
Have you heard Olive-ia Rodrigo's songs?
Olive oil: the original liquid gold.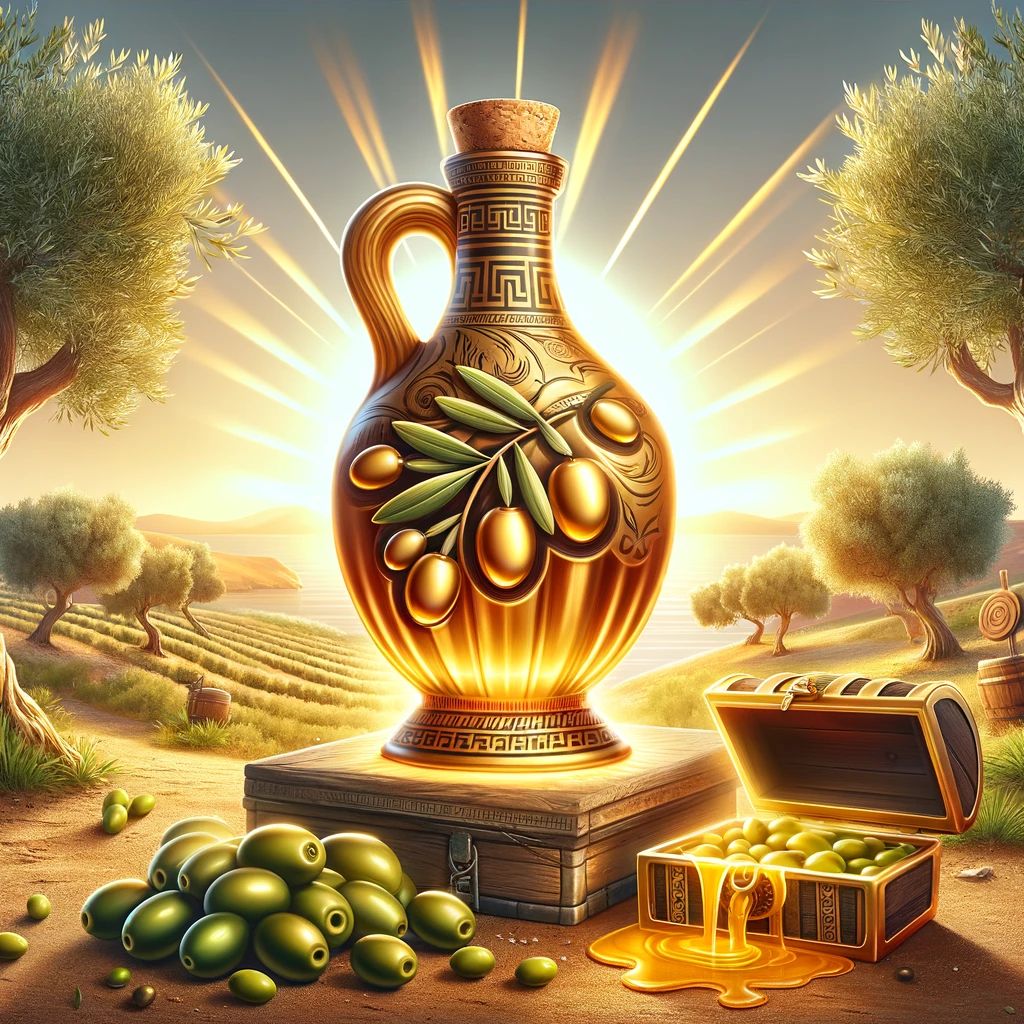 Olive while you can, because life is too short to miss out on great tastes.
Don't put all your olives in one jar.
Keep your friends close, and your olives closer.
Going for the gold in the Olive-lympics!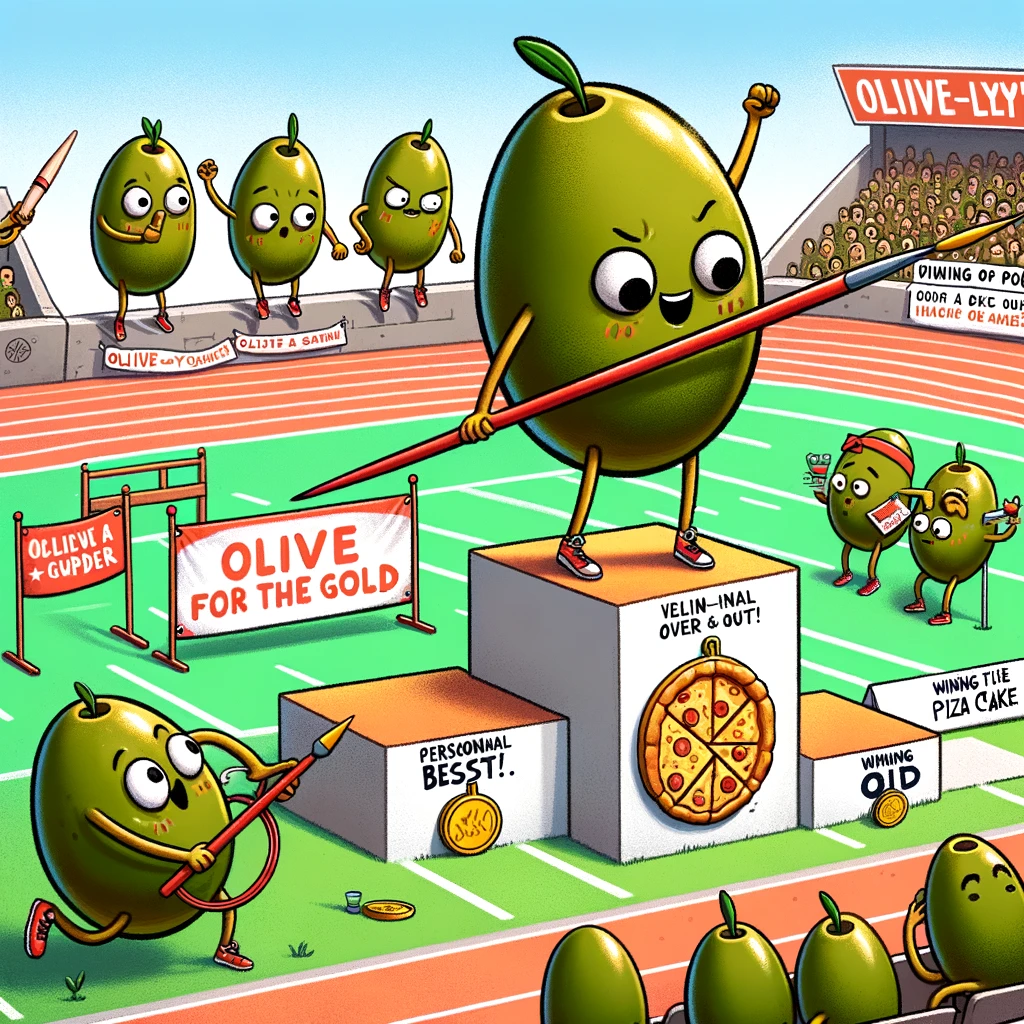 If olive oil could talk, it would speak Italian.
I don't buy olive oil, I just squeeze my own olives.
I thought I was lost, but then I found my way to the olives section.
It's not easy being green unless you're an olive.
Olive oil: the bread's butter half.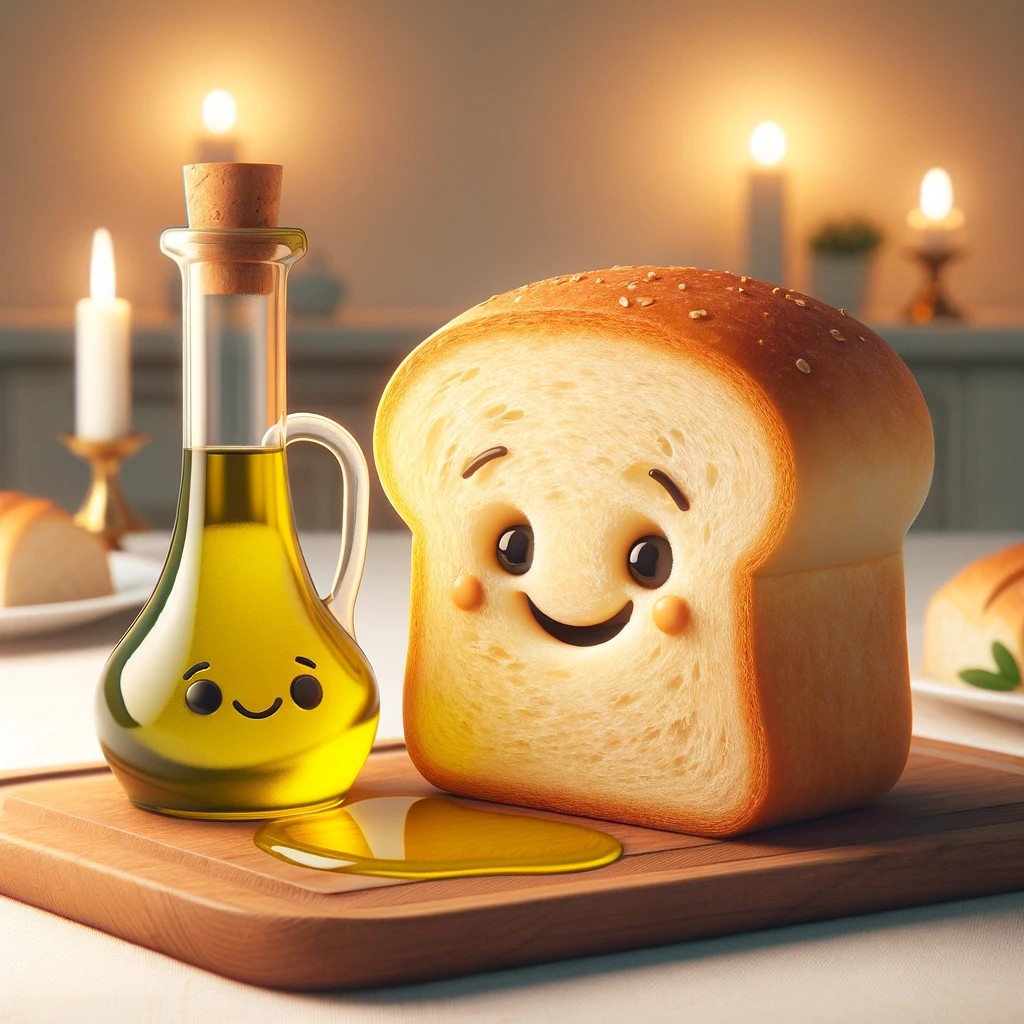 So many books, so little time – so many olives, so much pleasure.
My love for you is like extra virgin olive oil – pure and strong.
Life is better with a sprinkle of laughter and a dash of olive oil!
Some say life is full of pits, I say it's full of olives!
The way to my heart is through my olives.
Olive oil: making salads taste less like salads since forever.
An olive a day – keeps everyone away if you throw it hard enough.
I believe I can fly, especially after a few martinis topped with olives.
Olive you to the moon and back, and then some more!
Olive you like a chef loves experimenting with flavors!
I'm on an olive-only diet – it's the pits, but I love it!
We all have dreams – mine usually involve a endless bowl of olives.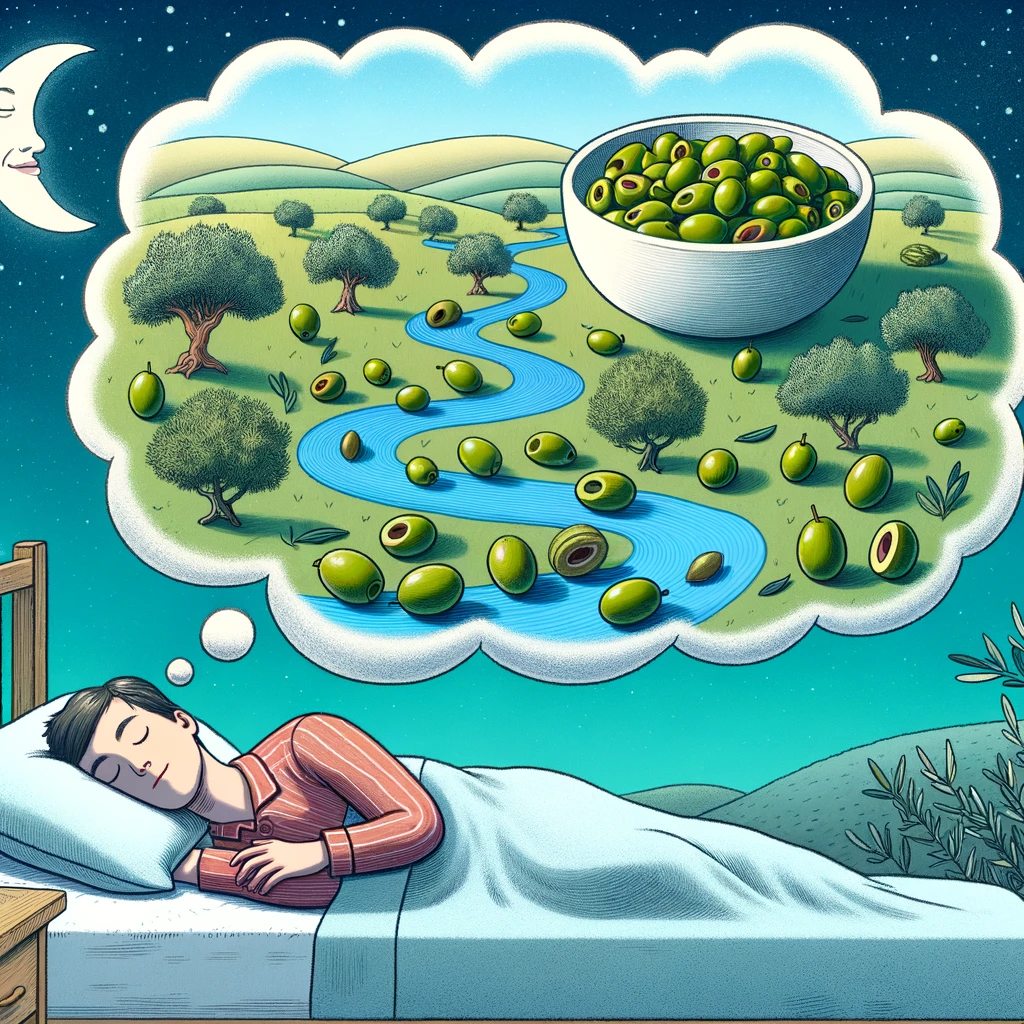 Olive you more than a vineyard loves its grapes!
Life is like a pizza; it's better with extra olives.
It's not the amount of olive oil that counts, it's how you drizzle it!
Olive you so much, I could dip everything in you!
You're the olive in my Mediterranean diet.
Olive the other fruits are green with envy.
Money doesn't grow on trees but thankfully, olives do.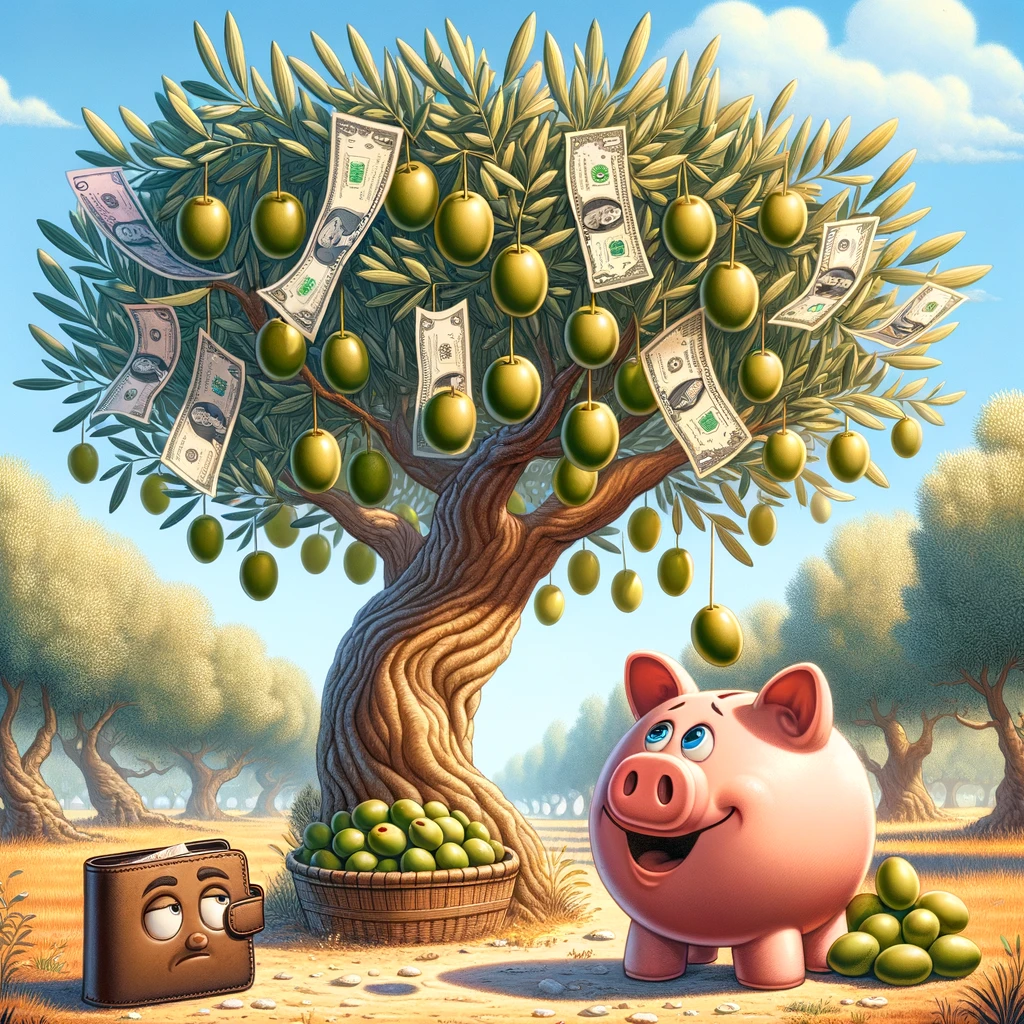 I asked for extra olives on my pizza, and now it's an olive wonderland!
Stay alive, or at least olive.
Honesty is the best policy, and the truth is, I love olives.
Olive oil is the only oil that can make brussels sprouts taste good.
I bet if I dive into this pool of olive oil, I'd come out feeling olive-ed!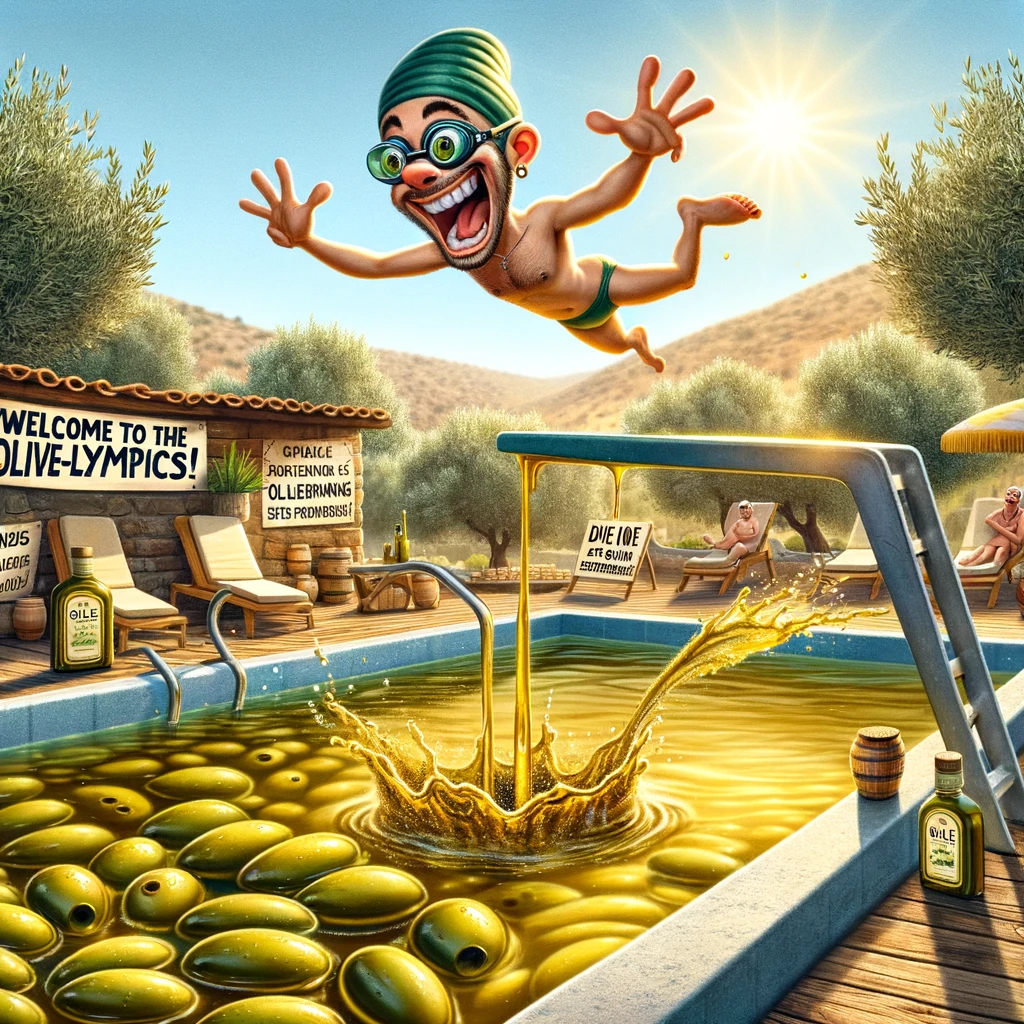 Feeling vine today, must be a touch of oliveness.
Trying to keep the pits out of my life and the olives in my mouth.
I'm the olive oil to your greens.
He's so serious about olives; he's like the Olive Ranger of the family!
"You're the one that makes me sizzle" said the olive oil to the pan.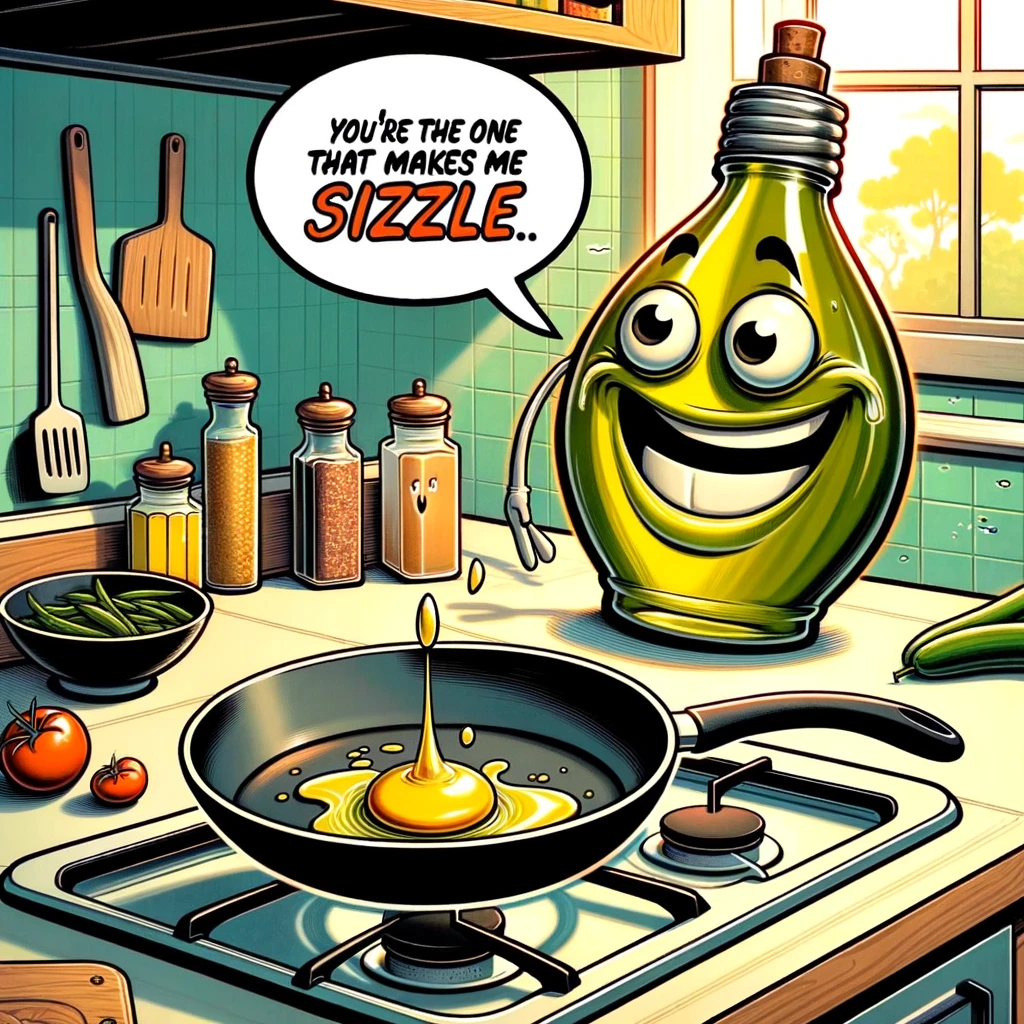 Don't dive into the salad before trying the olive.
The olive branch symbolizes peace, but this salad dressing is anything but peaceful!
I'm involved in a passionate relationship with olives!
You can lead a horse to water, but you can't make it eat an olive.
The olive went to college to earn a higher degree in olive-gebra!
Olives have a Pit-cher-perfect pitch.
Olive-r Twist: The Mystery of the Missing Oil!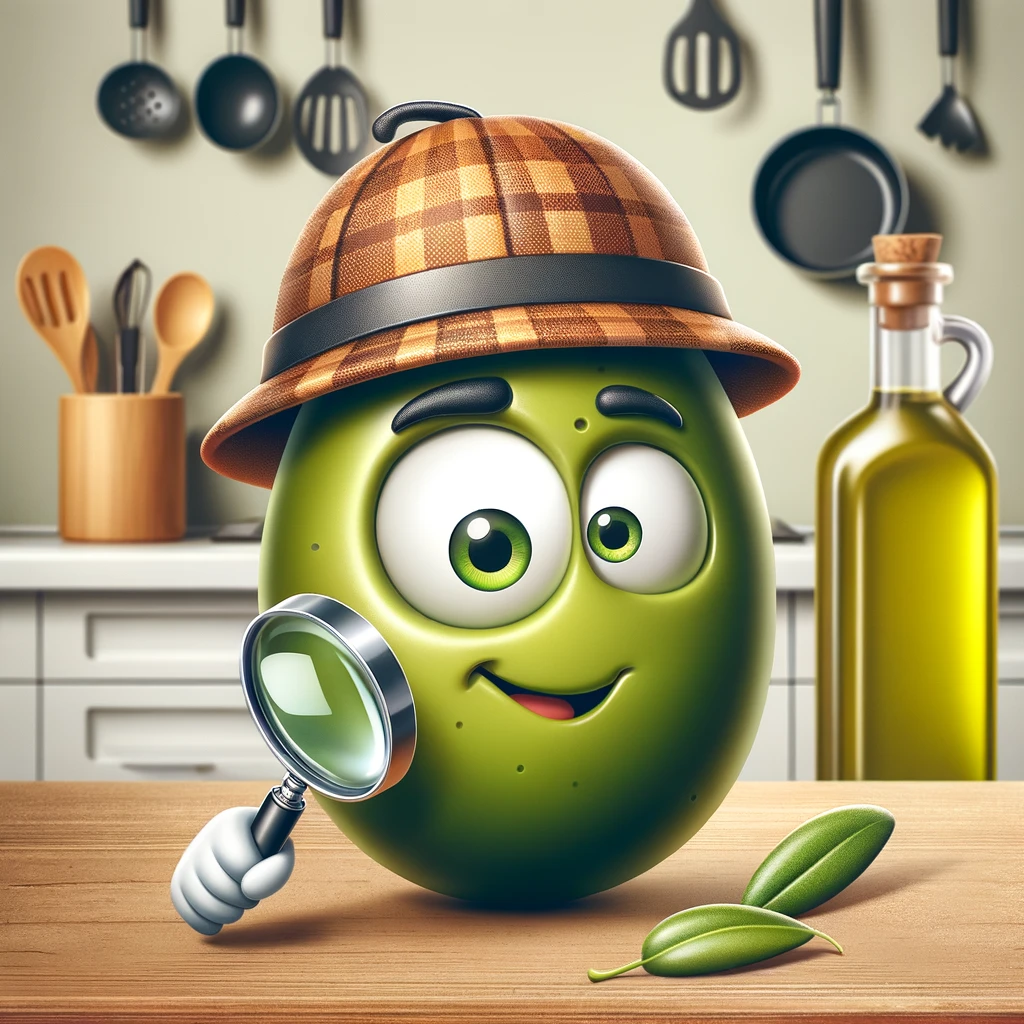 The olive got promoted because of its impressive pitt-stop sales pitch.
When life hands you lemons, swap them for olives.
Give a man a fish, he'll eat for a day; give a man an olive, and he'll be forever grateful.
Time flies like an arrow, but olives fly straight into my mouth.
A watched olive always disappears.
A group of olives that performs music is known as the Olive Orchestra.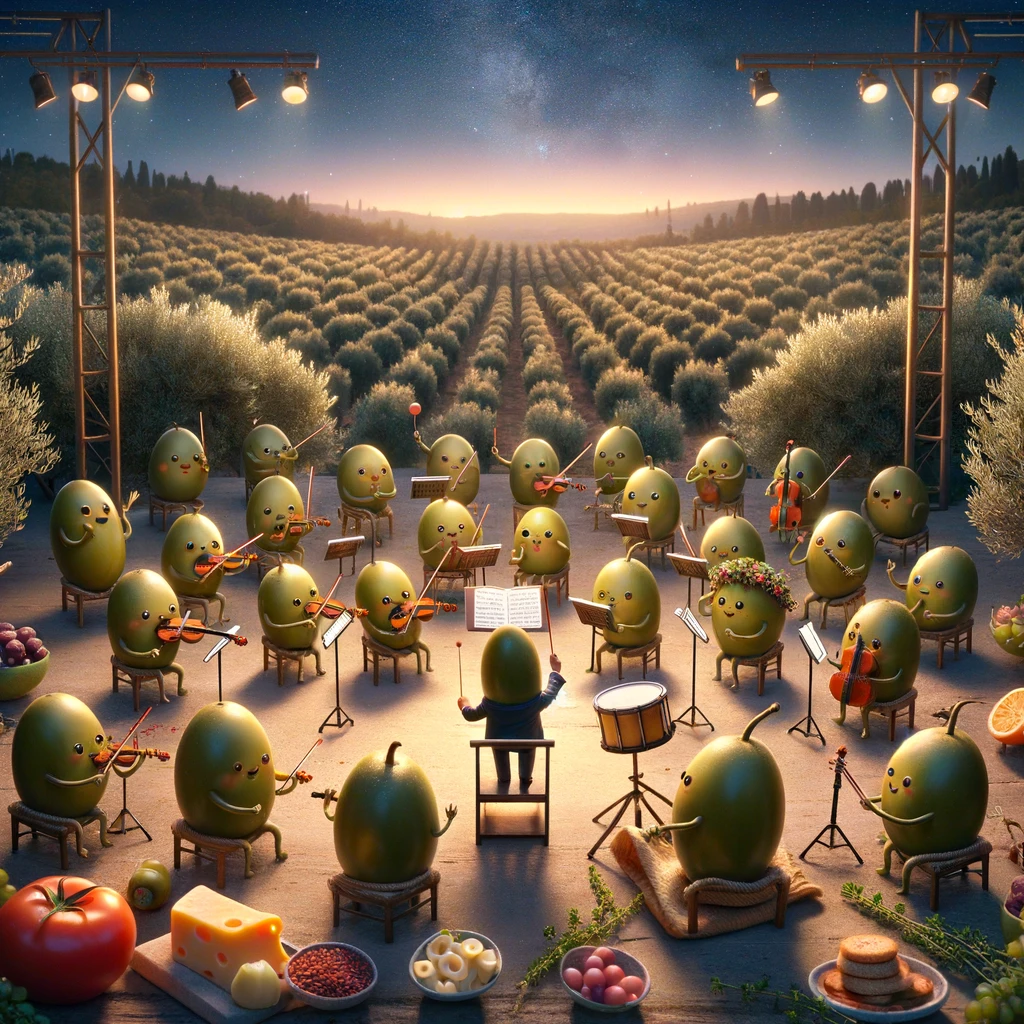 Absence makes the heart grow fonder, but olive absence makes the heart panic.
Birds of a feather flock together, and so do me and olives.
Actions speak louder than words, but the crunch of an olive speaks loudest of all.
There's no smoke without fire, but there's no meal without olives.
Laughter is the best medicine, followed very closely by olives.
When the olive saw the salad dressing, it couldn't help but blush!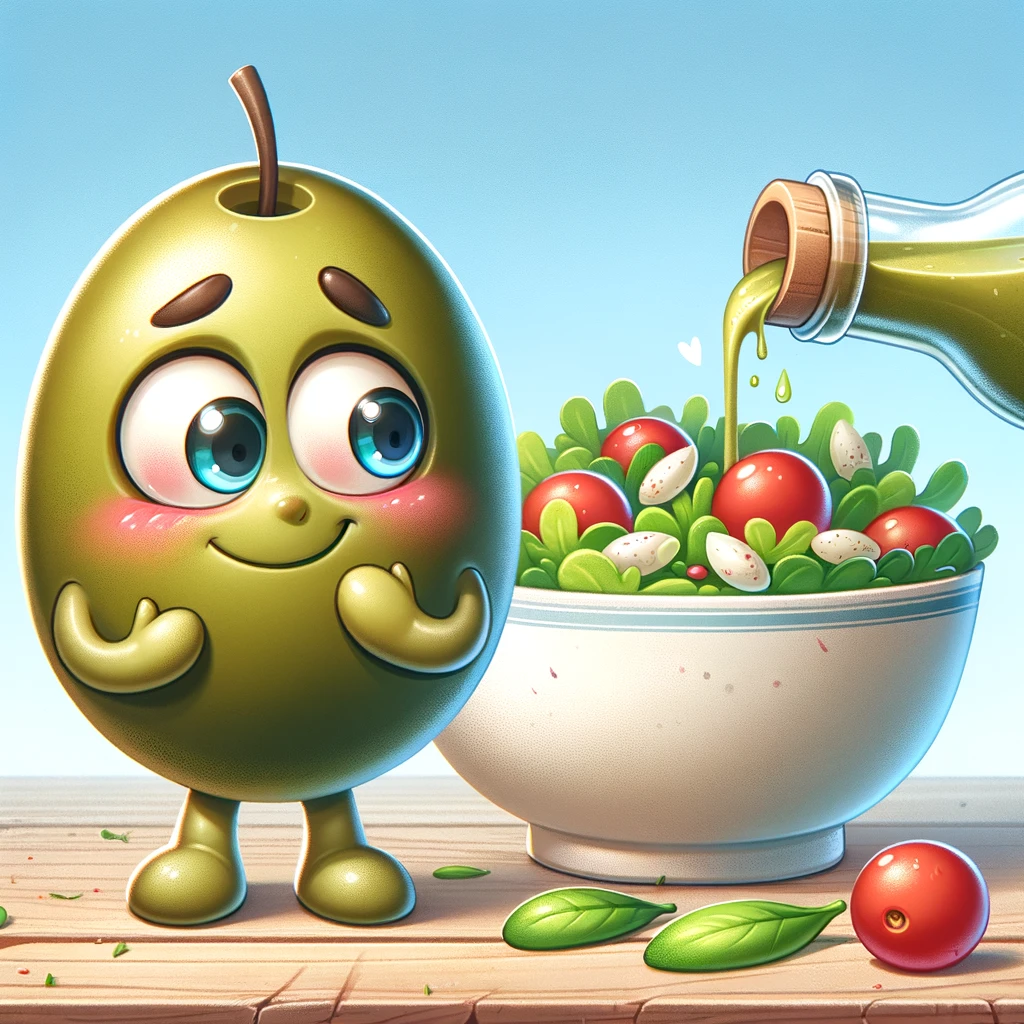 The grass is always greener where there are olives.
Home is where the heart is, and my heart is wherever there are olives.
Pit-stop, because the destination is filled with mouthwatering olives.
I got a new job at the supermarket, cause I could bottle up my love for olives there.
Olive oil is good for you, but olives themselves are the real deal.
I tried to make a baseball team of olives, but they kept running away from the base.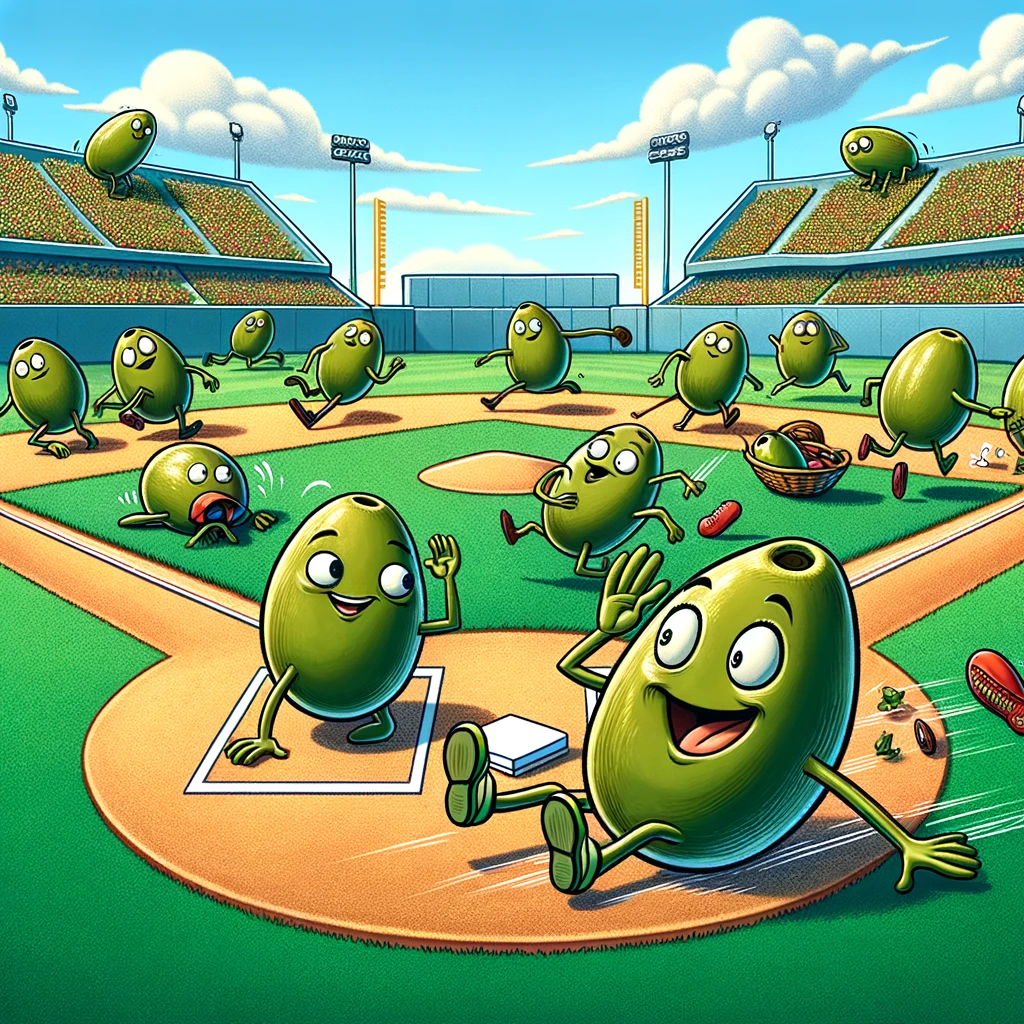 I wanted to play a song for my love. It was titled "Olive Me."
Fancy restaurants serve olive d'oeuvres.
Good things may come to those who wait, but the best olives go to those who don't!
Super-Olivo: Saving Supper, One Flight at a Time!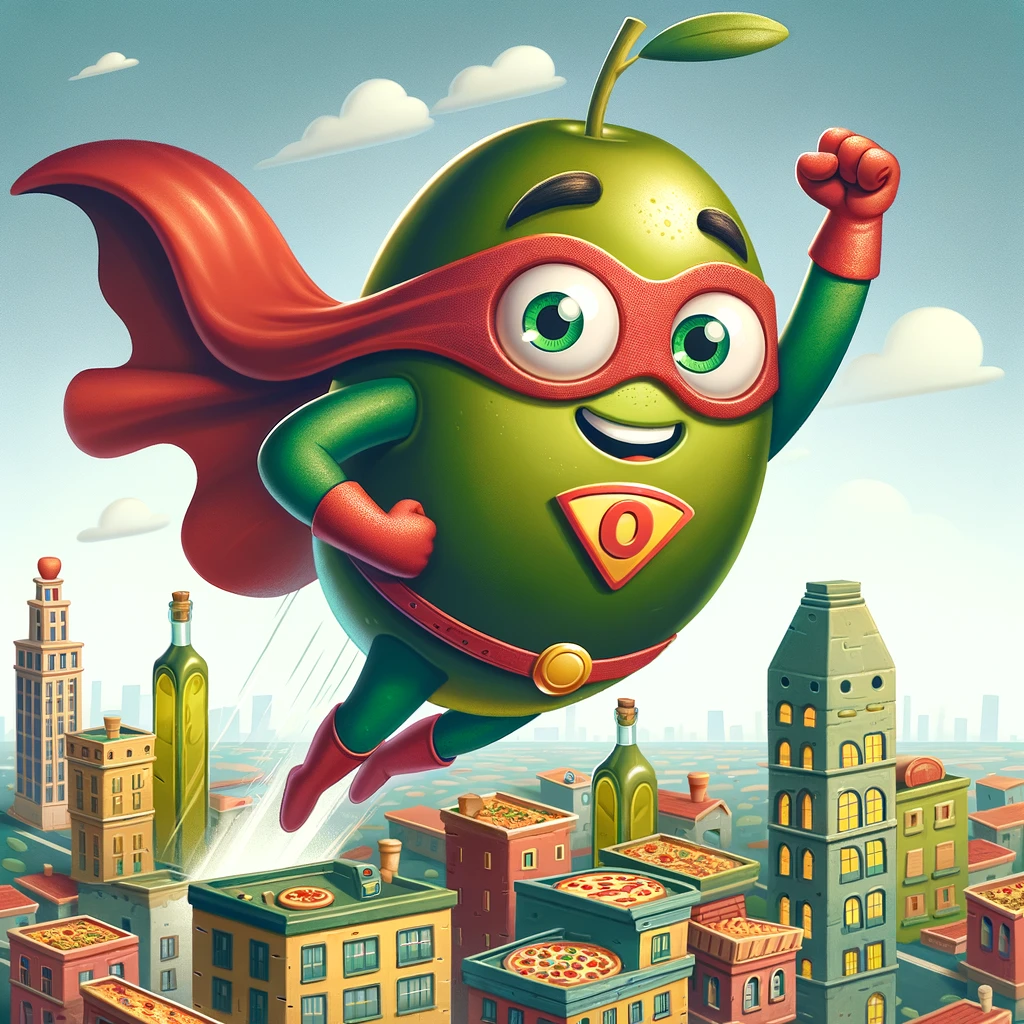 Knock, knock. Who's there? Olive. Olive who? Olive you!
The best part about olive oil? It goes with everything, just like a good friend.
What's an olive's favorite dance? The Salsa Verde!
The secret to a fruit salad? Always olive-n up to the highest standards.
Olive your dreams!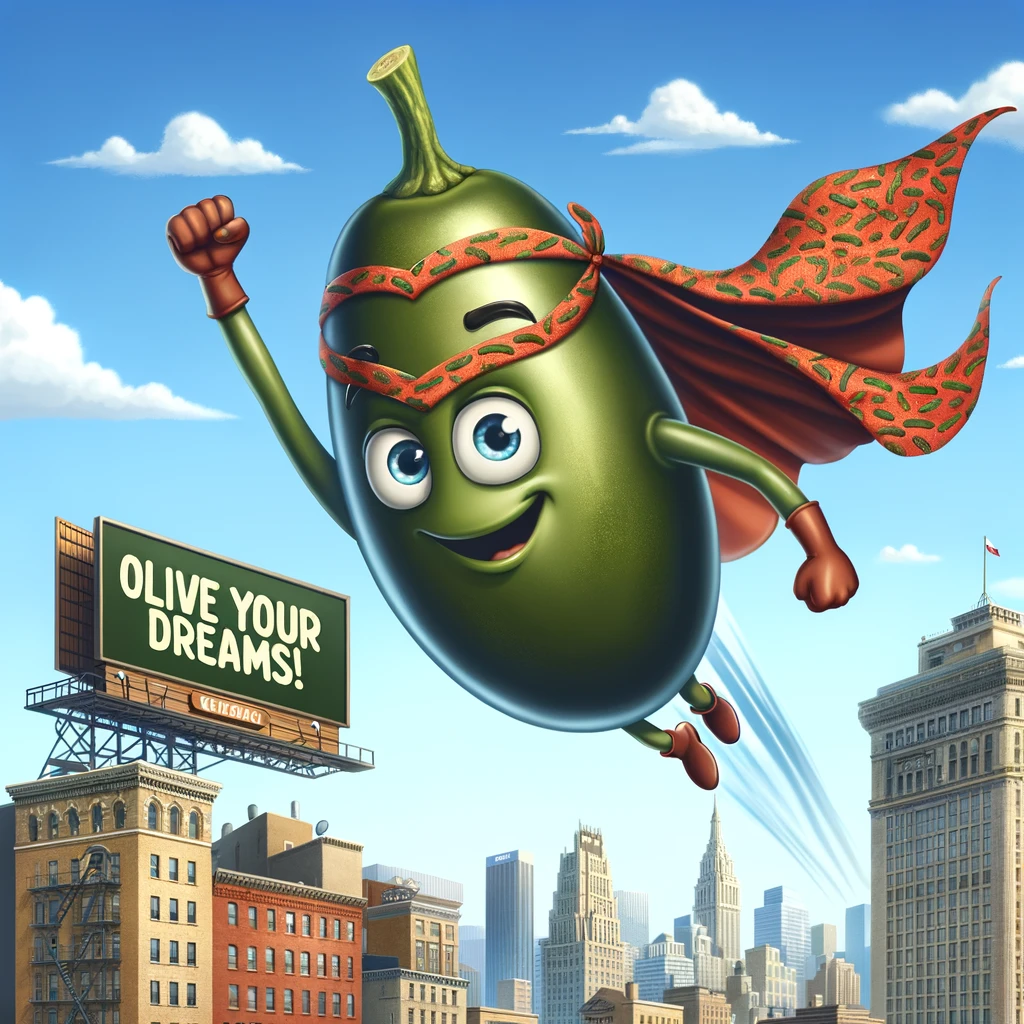 In the world of puns, you've just unlocked the secret to a veritable olive oasis of laughter and clever wordplay.
As you prepare to venture forth armed with the finest olive puns in your arsenal, remember that puns are like olives themselves — an acquired taste that can add a delightful twist to any conversation. So, go ahead and let your pun creativity flow like the olive oil in a Mediterranean salad.
Go forth, spread the laughter, and remember that life is what you make it – a bit like crafting the perfect pun, one playful word at a time.